Phrases for academic speaking situations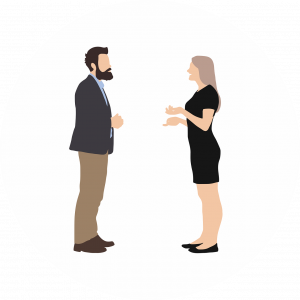 Add a header to begin generating the table of contents
Introducing the topic
The aim of this presentation is…

My presentation today is about…

Today I'd like to talk about…
Listing the points
My talk will be in two (three, four) parts: First, … after that, … then, … finally, …

Firstly, … Secondly, … Thirdly, … Finally, …

I'll begin by looking at … Then, I'll move on to …Towards the end I'll ...
Changing the topic
Now I'd like to turn to …

Now let's look at …

Moving onto ...
Focusing your audience's attention
What is interesting / important is …

Notice / Observe that
Referring backwards/forwards
I mentioned earlier …

We'll come back to this point later …
Referring to visuals
Looking at the chart you can see …

As you can see from the graph, …

The graph / chart shows …
Checking understanding
Is that clear?

Any questions?
Speaker's attitude
I believe/think that …

It seems to me that …

The point I'm trying to make here is ...

It's important/interesting to notice …
Referring to common knowledge
As you know ...

As I'm sure you are aware …
Dealing with questions
That's a good point…

Can we get back to it later?

I'm afraid I'm not the right person to answer this question.
Ending the presentation
So, to sum up …

In conclusion (we can say that) …

If you have any questions, I'll be pleased to answer them.
Giving Opinions
In my opinion…

From my perspective/point of view…

It's my understanding that…

In my mind…

It seems to me/It appears to me…

I am convinced that…

I strongly/firmly believe

There is no question/doubt that…
Example: It's my understanding that adopting the Euro will benefit Europe's economies in numerous ways.
Stating facts
It's well known that….

It's a fact that….

I'm positive that….

I'm absolutely sure that……
Example: It's a fact that the Euro will make prices across Europe more transparent.
Interrupting
Yes, but…

I see what you mean but…
Example: Yes, but it has already lost value against the U.S. dollar.
Pinpointing a problem
It seems to me that…

The real problem is…

It's quite clear that…
Example: The real problem is that not all countries in Europe are necessarily in favour of the EURO which means that only some economies will benefit.
Adding Information
Yes, but…

Let me add another point…

Let me just add to what was just said…

I agree with what X said, but I'd like to add something…

Furthermore…
Example: Furthermore, the EURO may not level the economic playing field between countries and different standards of living will continue to exist.
Checking that you have understood
Please correct me if I'm wrong, but…

Could I ask a few questions to check my understanding of your position?

Could we go through that again?
Example: Please correct me if I'm wrong, but isn't the EURO supposed to raise the standards in the less affluent European countries to meet those in the richer countries?
Proposing a solution
What if _X_ were to…

Supposing _X_ tried…

Wouldn't a fair solution…
Example: Supposing all EU members adopted the Euro for a trial period with the option of abandoning the currency if economic matters failed to improve.
Demonstrating Understanding
If I understood you correctly, you…

I appreciate your/that point of view…

I can understand your/that perspective…
Example: I appreciate your point of view and I agree completely.
Focusing on difficulties
The argument falls apart/is weakened…

The main issue/problem as I see it…

Where I have difficulty with your notion(s) is/are…
Example: The main problem as I see it, is that not all European countries are starting from the same economic departure point.
Disagreeing
I disagree/ completely disagree

I'm afraid that I can't quite agree

I can see your point, but…

I have some reservations about that point of view…
Example: I disagree with your last point because the EURO will equalize commerce, trade and labour costs.
Seeing both sides
On the one hand…

One way of looking at it is…

Yes, but the flip side of the issue is…

You can't ignore…
Example: On the one hand adopting the EURO will bolster competition among European nations while on the other hand it will combat U.S., global market domination.
Opening the debate
[a nice opening is using a quote]

Ladies and Gentlemen, welcome to this debate.

Welcome from this side of the house…

The motion for debate today is: … defining the motion:

Now we as today's proposition/opposition strongly believe that this is true/not true.

let us first define some important terms in this debate.

We believe that what is meant by … is… / that … are …

When we say … should … we mean that …
Presenting the team-line
We as today's proposition/opposition have structured our case as follows:

I, as the first speaker, will be talking about …

Our second speaker, …, will elaborate on the fact that …

And our third speaker, …, will do the rebuttal.
Rebutting arguments, rebuilding your case
But before I come to my own arguments, let us first have a look at what … has said.

I will continue our case in a minute, but before that…

There are some things about the… speech that need to be addressed.

The first prop/opposition speaker has told us …; on the contrary …

He/She also said that …; but in fact..

He/She was claiming that …; but as my first speaker already told you, …
Introducing arguments
Let me come to my first/second/…/next argument: [concise label of argument]

My first/… argument is:

The first/… reason why we're prop/opposing this motion is: explaining arguments:

[rather abstract explanation on how the argument should work] giving examples:

There are many examples for this/for …, for instance.

In fact, you can find many examples for this in real life. Just think of…

And there are similar cases, such as…, …

So in this simple example we can clearly see the effect of …

So as we have seen [argument label], and therefore [motion].

Now because of this …, we have to support this motion.
Summarising & ending your speech
So Ladies and Gentlemen, what have I told you today? Firstly …, Secondly..

[some nice closing words]

And for all of these reasons, the motion must stand/fall.
Making / rejecting / accepting / answering points of information
Point of information, Sir/Madam.

On that point.

Wouldn't you have to agree …?

Doesn't what you're saying contradict with …?

What about the …?

How would you explain, that … ?

Declined.

Yes, please. / Go ahead.

I'm going to come to this very point in my second argument in a minute.
Giving summarising speeches
Ladies and Gentlemen, welcome for the last time from today's prop/opposition.

It is now my pleasure to summarize this debate,

Take a look at what both sides have said and see what the outcome of this debate actually is.

A first/second/… major clash was: …

Today's prop/opposition told us …; we had to find …

And for all these reasons, I beg you to propose / oppose